HYDRO BOOST SYSTEMS
HYDRO – BOOST – M
(A convenient Hydropneumatic System for Water Supply)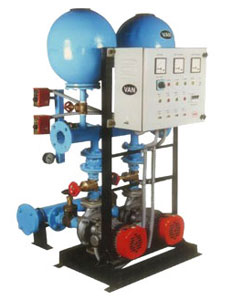 Hydro-Boost-M are packaged pumping systems incorporating Multiple Monoblock pumps, diaphragm tanks, control panel duly piped and wired and are dispatched in ready-for-installation condition. The Hydro Boost units are fully tested. The pumps motors, electrical are chosen from a wide range of reliable Manufacturers like Kirloskar, L & T, Siemens etc.
OPERATION :
The pumps start/stop automatically, sensing drop/rise in pressure, when outlets are opened/closed. The low demands are met by the diaphragm tanks. The running of appropriate pumps in their high efficiency zone, ensures, saving of energy from zero to peak load.
APPLICATION :
Multistoried Buildings, Bungalows, Apartments, Industries, Automatic Water Supply & Pressure Boosting. First Air Fire Fighting, for Cleaning & Washing, and Innumerable others.
SALIENT FEATURES
Fully assembled, wired and preset HYDRO-BOOST ready for use.
Easy Installation. One Electric and Two Hydraulic connections. Rigid foundation not required.
Diaphragm Vessel with easily replaceable food quality diaphragm. Tank location not critical. If ensures noiseless, pulse free pumping.
Easy operation and maintenance features at lower cost.
Compact, energy efficient, economical too.
Eliminates overhead tank, Can get any desired pressure in the system or change the pressure easily by simple modifications.
Useful for new installation, can be retrofitted on existing and OLD installations.
Custom design and operations available to meet any demanding situation. Different types of pump options possible.
Single source responsibility for preselection assistance, design, installation commissioning and 12 months guarantee.
HYDRO – BOOST SC SYSTEMS
HYDRO PNEUMATIC SYSTEMS FOR PRESSUREISED WATER SUPPLY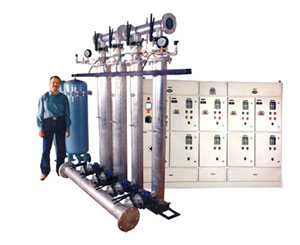 APPLICATION :
Eliminates overhead tank.
Multistoried Building, IT, Parks, Shopping Malls, Apartments, Bungalows, Resorts, Hotels etc.
Industries – water supply, HVAC, Cooling, heating etc.
First air fire fighting.
ECONOMICAL :
Energy efficient pumping systems – leading to lowest running cost.
Easy interchangeability / serviceability
Quick availability / Early deliveries.
Operator and pump room not required.
Single source responsibility and prompt service.
SPACE SAVING AND COMPACT :
System can be without pump house.
Floor space required is least as compared to any other systems.
Diaphragm vessel and control panel need not be in the pump room.
RELIABLE :
Systems are engineered for long life.
No hydraulic or electrical surges.
Ventilation not required.
ENVIRONMENT FRIENDLY
No gland leakage.
Noiseless, vibration free.
No heat emission.
CONSTRUCTION :
Vertical multistage pumps with TEWC Motor.
Pump can suck water upto the lowest from the tank.
The system are with VFD.
Upto 5000 lpm & 250 meters head for handling water.
Fully automatic operation.