HYDRO PNEUMATIC SYSTEMS (HYPNS)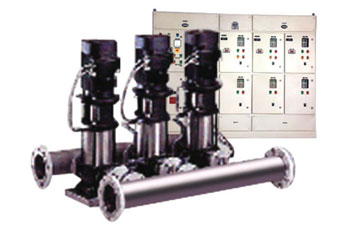 We are in to manufacturing of HYPN since 1994. More than 1000 installations are the testimony of our expertise and quality of manufacturing. We offer the following products and services.
HYPNS with 1 to six pumps running in parallel
Pumps in parallel and in series for high head application, with out break tank
Pressure switch/VFD controlled systems
Bladder vessel in pump room or at top level in the zone.
PUMPS :
We offer following types of pumps depending upon clients requirement/suitability at site

Vertical in line st. steel (AISI 304) Type- HYDRO BOOST-R
Mono submersible pumps for low and medium head application-HYDRO BOOST-SM
MONO BLOCK pumps for low and medium head ,economical duties- Type HYDRO BOOST-M
Submersible pumps in casing pipe, Type- HYDRO BOOST SC
VERT/HORIZONTAL Submersible Pumps-HYDRO BOOST-S

HYPN System DESIGN :
We offer the systems as per consultant's client's design. We also provide free design service upon getting full information from the client
CONSTRUCTION :
HYPN Systems are packaged units consisting, pumps, piping, bladder vessel, control panel duly piped and wired. All components are mounted on Base frame. At site it is only required to give suction and delivery connection, and one electrical connection. In some cases components are sent separately to avoid bulky packaging. These are assembled at site
RANGE :
The HYPNS are offered in wide range of duties, without any limit for Discharge and Head. HYPNS suitable for working efficiently in wide range of capacities. Low demands are met by Bladder vessels.
The HYPNS can be offered in material of construction as per requirement.
APPLICATIONS :

As a domestic and flushing water supply, Hot water supply units in Multistoried buildings, Colonies, Industry etc
As a water supply unit for curing water to cement plastered walls and ceilings