Municiple Booster Systems
Booster Systems for Municiple Corporations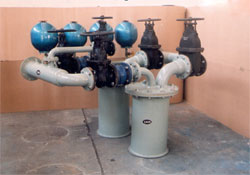 Municipal corporations face water distribution problems, due to undulations in the city's landscape and/or extension of boundaries. These can be solved by
INSTALLATION of BOOSTER SYSTEMS
. Following case studies explain the application
PANCHAVATI AREA- PASHAN ROAD PUNE
The area is located on higher elevation. If ESR (6 million liter capacity) is kept full, then only 5000 residents would get 20- 25% of their requirement in 12-14 hours. For balance water ,TANKERS were used by paying Rs 7000/day.
Pune Municipal Corporation (PMC), Proposed a UGR .ESR and Pumping machinery with a Budget og Rs 85 Lacs, and completion period of 14 months. Staff of four people Running cost of Rs 450/day, free land of 5000sq ft.
We at
VAN ENGG CO
proposed to PMC that we would ensure supply of water in the same quantity and pressure with BOOSTER system, at Rs 17 lacs, complete the job in TWO months, system will be automatic, electricity charges will be Rs 200/day, the BOOSER SYSTEM can be installed below the road and it will not be affected by flooding
The BOOSTER SYSTEM
is running with utmost satisfaction for last 15 years. ..
DESCRIPTION :
Booster systems ARE TAILOR MADE TO SUIT EACH SITE.
Main components are
Submersible pumps in casing pipe
Valves and piping
Water hammer control devices
Control systems
Civil work
APPLICATION :
As water BOOSTERS, to correct the distribution problems.
To increase the flow in the existing piping net work for quick results
To improve the efficiency of the system
Most Economical
COMMENTS :
It has been normal practice to construct ESR at highest level and distribute by gravity. These systems are capital intensive and create lot of imbalances in distribution. With modern technology we have been able to establish in PUNE , that BOOSTER SYSTEMS which can easily solve such problems. Most of the cities in INDIA can benefit by this technology, especially because of faster urbanization due to growing economic conditions
BOOSTER SYSTEMS- ESR FILLING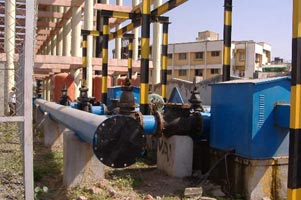 Water is distributed by gravity from ESRs located at a convenient place. ESRs are in turn are filled from a UGR which receives the water from main balancing reservoir, by using pumps. This gives great opportunity to save capital cost and running cost as seen in the following case study
RAHATNI PUMPING STATION- PIMPRI- PUNE –MAHARASHTRA=INDIA
ESR capacity is 4.4 million liters.UGR capacity is 100,000 liters. A 30 hp pump is used fill the tank in 22 hours. Connecting pipe to UGR is of 400MM DIA via rising main of 900mm dia. The inlet pressure is 2.0kg/cm sq. -Water was taken in UGR to avoid sucking from rising main and creating imbalance to other users connected to the system ESR served only 40000 people.
OUR SOLUTION :
We provided online BOOSTER on 400 dia pipe, with Variable frequency Drive. It was possible to fill ESR in less than five hours. The power consumption at reduced speed was less than 30hp.
BENEFITS :
ESR could be filled five times per day. The capital invested on ESR could be used for 2 lac people instead of 40 thousand people, apart from saving in energy costs.
The BOOSTER system is working satisfactorily for more than 10 years.
DESIGN :
The system consists of
PUMPS
CONTOL PANEL WITH VFD
WATER HAMMER CONTROL DEVICES
BY PASS LINES
Transducers'
Civil structures
Alarm systems
Piping and valves
COMMENTS :
. With modern control systems it is possible to modify the existing systems and put the invested capital for multiple fold usage. Millions of people can get better water facilities at marginal costs.
BOOSTER SYSTEMS- FOR LONG DISTANCE PUMPING
Long distance pumping is a highly challenging job.
VAN ENGG
Co was engaged to conceptualize the Design for RAMAKRISHNA GODAVARI LIFT IRRIGATION SCHEME near AURANGABAD in Maharashtra State
( Total hp of pumps in all 3 stages=15000hp, with 1100 dia pipe and total length of RM=27 KM, to irrigate 10000 hectares )
Single stage pumping was ruled out ,because of high cost of heavy duty pipes,AND WATER HAMMER PROBLEMS.
A three stage pumping was considered as per conventional method. With intermediate sumps
Anticipated Problems

The sump had to be located in a village In case of imbalance in pumping, the water will overflow and flood the village and surrounding fields
Land availability will be a problem
Energy consumption was very high
We proposed BOOSTER SYSTEM as under
In each pump house pumps will work in parallel. Between pump houses, pumps will work in series
Necessary protection devices, and power source etc will be provided
BENEFITS

40% saving in energy costs
25-30% saving in capital cost.
The cost of water hammer devices was considerably less

COMMENTS :
Long distance pumping has become an essential requirement, for water supply. The BOOSTER systems wherein pumps work in parallel and in series to provide efficient and economical solutions
DISCLAIMER :
The BOOSTER systems must be designed by EXPERTS with thorough understanding of working of all components of pumping systems. . The mistakes may lead to disastrous results
OTHER SITES:

PURANDAR LIS in Maharashtra with 5 stage pumping and total of 50000hp motors has adopted the BOOSTER CONCEPT
JIHE-KATHAPUR LIS IN Maharashtra has adopted BOOSTER CONCEPT with 5 stage pumping total hp>65000hp
We have completed many scheme with 3 stage pumping