VAN MAKE CURING SYSTEM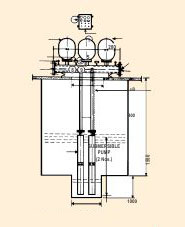 OPERATION :
Once the system is charged, all operations are automatic. The worker in any of the outlets located in various building can open the valve connected to sprayer. The water starts spraying on the portion of the structure. The water can be sprayed in the form of Mist. The worker can cover the large are afor spraying water. One room of 4 M x 4 M can be watered in less than 5 minutes.
The ceilings, and external water from the 12 mm pipe can be directly taken for mixing sand cement etc. As soon as watering is watering is complete, the worker can shut the valve, attached to the sprayer. When all outlets in various buildings are closed the pump stops automatically.
DESIGN :
From one central location, the pipe lines can be load for connecting to various building. Please note, that these pipes are in any case required to supply water to residents, once the building is complete. For each building a separate pipe can be taken from above pipes (header). At the end of each pipe a sprayer can be connected via 9 mm diameter flexible pipe.
A separate 12 mm diameter flexible with gate valve may be provided for construction (Not in our scope)
ADVANTAGES :
For curing the concrete, the concrete has to be kept moist. This can be effectively done by sprayer. You can expect higher strength and better finish.
You can save the following.
Less consumption of electricity.
Cost of water.
Maintenance charges will come down.
Cost of water filling system when building is complete.
The worker can carry the work very fast. No extra worker may be required.
The excess water creates lot of mess at site. This can be avoided.
Since the pump operators automatically, no need to start & stop the pump. This also avoids overflowing of overhead tank.
No operate UGR will be required in each building. This also avoids movement of WATER Tankers, in an area, which is already crowded.
The Hydro pneumatic pump can be used for filling overhead tanks automatically, since site is complete. Hence you can save on cost of such pumps.
Single point for maintenance.