WATER BOOSTER TYPE SM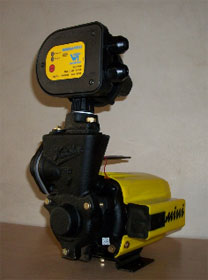 Among its many advantages is the genuine pleasure of a high pressure shower – your blood circulation increases, body cells get activated and you feel totally relaxed, just like you felt in a five star hotel or while standing below a waterfall in far away Himalayas.
Inevitably your lifestyle has changed. You demand and get more from life. But, has the pressure of your water supply kept pace?
While most modern day conveniences depend upon strong water pressure – The New WATER BOOSTER Type SM delivers more pressure than you would get from a tank 70 feet above ground level – automatically, allowing you to operate your water dependent appliances unattended.
Your automatic washing machines, dishwashers, car / garden sprays / taps . . . and ofcourse, your favourite showers, most suitable for bungalows with multiple bathrooms.
So the next time you dream of a high pressure, five star luxury shower, remember, you can have the real thing in the comfort of your home.
The WATER BOOSTER Type SM
fits in well with your modern household. Consider the following features which make your life easier.
COMPACT :
For something so versatile it measures just 600 mm L x 600 mm W x 650 mm H & weights only 28 Kg – fitting into the tinlest of places with ease.
EASY TO INSTALL
Fully assembled, pre wired and pre piped, the package is ready to use after plugging into single phase 220 V, 50 Hz socket & connecting suction and delivery to 25 mm pipe. Does not require rigid foundation.
EASY TO USE - No operator - fully automatic
.
Pump starts at 2.7 kg/sq.cm and stops at 4.0 kg/sq/cm. No Air replenishing devices required. The system works without maintenances for years.
UNIQUE CONSTRUCTION :
The system incorporates, 25 litres per charged steel tank (tested at 10Kg/sq.cm.) with inter changeable diaphragm, monoblock pump with stainless steel light weight body. Noril impeller, mechanical seal, low thrust diffuser casing. 1 Ph, 1 H.P., 220 V, 50 Hz motor with class F insulation all mounted on a base frame with antivibration mountings (noise level less than 65 dB)
ENERGY EFFICIENT
:
Consumes 25% less power than conventional pumps, Jerkless start and stop operation.
PROMPT SERVICE
:
Every Water Booster is backed by the prompt service of our expert factory trained staff. In the rare event of spares being necessitated, we carry enough stocks.
ECONOMICAL TOO :
Consider these savings – No overhead tank, no operator, reduced pipe work, quick installation, efficient operation year after year, plus the pleasures are for free.